Lenape will once again be offering the option to watch our graduation ceremony on Livestream.
Tune in to Lenape Tech TV on any computer, tablet or phone to watch!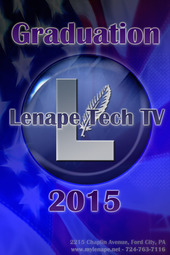 Click here to view
The feed is being made available via Livestream. To find it there without using the links above navigate to www.livestream.com and search for Lenape Tech. The feed is available on most devices, including computers, tablets and smartphones.
Lenape Tech is providing Microsoft Office to every student free of charge. Office 365 includes the latest version of Word, Excel, PowerPoint, OneNote, and more. As long as you're a student here, you'll be able to use this software for free.
Welcome to MyLenape.net, an interactive portal website solely dedicated for the use of students attending Lenape Tech.
At MyLenape students can access links to web resources, email, online storage, web-apps and much more.  
You can now order the 2014-15 yearbook!
Click here to visit our Blurb store and order the book!